The Actors


MIRJANA KARANOVIC
(as ESMA)


Mirjana Karanovic (as Esma)
Mirjana Karanovi} is perhaps best known to international audiences forher roles in films by Emir Kusturica: 1985's WHEN FATHER WAS AWAY ON BUSINESS, 1995's UNDERGROUND and 2004's LIFE IS A MIRACLE.Her other film credits include Ahmed Imamovic's GO WEST, Vinko Bresan's WITNESSES, Ducan Milic's STRAWBERRIES IN THE SUPER-MARKET, Goran Paskaljevic's THE POWDER KEG/CABARET BALKAN and Mirjana Vukomanovi}'s THREE SUMMER DAYS. Karanovic also worksextensively in theater and TV, credits including the 1988 US mini-series MARIO PUZO'S THE FORTUNATE PILGRIM, starring Sophia Loren.Karanovic was born in Belgrade, where she also graduated from theAcademy of Dramatic Arts. She made her screen debut in 1980 in SrdjanKaranovic's PETRIA'S WREATH. Karanovi} continues to live in Belgrade,where she is a professor at the "Braca Karic" Academy of Arts.She will soon be seen in Andrea Staka's feature film DAS FRAULEIN.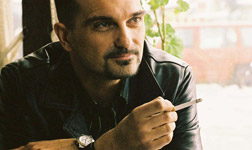 LEON LUCEV (as PELDA)
Leon Lucev (as Pelda)
Leon Lucev is perhaps best known to international audiences for his rolesin fims by Vinko Brecan: 2004's WITNESSES and 1998's HOW THE WARSTARTED ON MY LITTLE ISLAND.His other film credits include Hrvoje Hribar's WHAT IS A MAN WITH-OUT A MUSTACHE?, Krsto Papic's INFECTION and Lukas Nola's CELES-TIAL BODY and ALONE,.He also works extensively in TV and theater. For the past six years he hasparticipated in some 10 productions with the "it&d" Theater.Lucev was born in 1970 in Sibenik, Croatia. His early work was with theindependent theatre group "Monta` Stroj" in Zagreb, before attending the Academy of Dramatic Arts in 1994.