Franziska Weiss
(Irène)
Née en 1980, à Vienne, Franziska Weiss étudie la gestion dans la capitale autrichienne avant de suivre les cours de théâtre de l'université DeMonfort à Leicester dont elle ressort diplomée en 2003. Elle a fait des débuts remarqués au cinéma dans Dog Days de Ulrich Seidl. HOTEL est son deuxième long métrage et son premier rôle principal.


Marlene Streeruwitz
(Mme Maschek, la patronne d'Irene)
Marlene Streeruwitz est connue en Autriche pour ses romans, poèmes et pièces de théâtre parmi lesquels Lisa's Liebe (L'amour de Lisa), Nachwelt (Postérité), Partygirl et Tagebuch der Gegenwart (Journal du présent). En 2002, elle a fait une apparition dans Haider lebt (Haider vit), une comédie signée Peter Kern. HOTEL, lui donne l'occasion d'interpréter son premier rôle important au cinéma.

Rosa Waissnix
(Mme Liebig)
Rosa Waissnix qui prête ses traits à l'inquiètante Mme Liebig n'est pas une actrice professionnelle. Elle est la propriétaire de l'hôtel dans lequel se déroule l'action du film et fait ici ses premiers pas devant la caméra.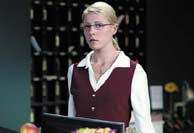 Birgit Minichmayr
(Petra)
Birgit Minichmayr est née en 1977 à Linz. Elle a suivi des cours d'art dramatique sous la direction d'Inge Konradi et Klaus Maria Brandauer. Elle débute au cinéma en 2000 dans Abschied de Jan Schütte. En 2001, l'European Film Promotion la choisit comme Shooting Star, jeune talent européen. Elle poursuit de front une carrière active au cinéma (Taking Sides, le cas Furtwängler, István Szabó ; Untergang, Oliver Hirschbiegel), à la télévision et sur les planches où elle s'est récemment illustrée dans Anatol et Œdipe à Colonne mis en scène respectivement par Luc Bondy et Klaus Michael Grüber.



Marlene Streeruwitz (Mrs Maschek, Irene's boss)
Marlene Streeruwitz is known in Austria for her novels, poems and plays, among them Lisa's Liebe (Lisa's Love), Nachwelt (Posterity), Partygirl and Tagebuch der Gegenwart (Diary of the Present).
In 2002, she made an appearance in Haider Lebt (Haider Lives), a comedy by Peter Kern. HOTEL is her first lead role in a film.
Rosa Waissnix (Mrs Liebig)
Rosa Waissnix, lending her talents to the troubling Mrs. Liebig, is not a professional actress. She is the owner of the hotel in which the action of the film unfolds and is here making her first appearance in front of a camera.
Franziska Weiss
(Irene)
Born in 1980 in Vienna, Franziska Weiss studied management in the Austrian capital before pursuing a theater degree at the University of DeMonfort in Leicester, where she received her diploma in 2003. She soon made her mark in the film Dog Days by Ulrich Seidl. HOTEL is her second feature film and her first leading role.


Birgit Minichmayr
(Petra)
Birgit Minichmayr was born in 1977 in Linz. She followed courses in the dramatic arts under the direction of Inge Konradi and Klaus Maria Brandauer. She began working in film in 2000 in Abschied, by Jan Schütte. In 2001, The European Film Promotion chose her as one of its « Shooting Stars », young European acting talents. She is pursuing an active career in film (Taking Sides, The Furtwangler Case, István Szabó ; Untergang, Oliver Hirschbiegel), in television, and on stage, where she recently played in Anatol and Oedipus at Colonus, produced respectively by Luc Bondy and Klaus Michael Grüber.